Category Archives: Uncategorized
Every now and then I start feeling bad for relying on the bloggers' cop-out – the Links round-up. I'm just too busy to devote enough mental energy to blog essays and such.
1. "The American Precariat", as David Brooks calls it, "is the growing class of people living with short-term and part-time work with precarious living standards and 'without a narrative of occupational development.'" Americans are more risk-averse and hunkered-down that ever before, as shown by low rates of geographic mobility even as the job market is weak.
Perhaps it goes without saying, but the lack of a vision for occupational development is also what is driving the arguments over minimum wage and even unpaid internships. Some people will accept low pay at Time A because they know that they are essentially building towards a better position at Times B and C. But, increasingly perhaps, people do not have a vision of Times B and C. They see Time A as their current and future position, so of course they fight for higher pay now. But that gets us back to the fundamental question of whether the economy has changed fundamentally or whether people are just lazier than they used to be.
2.  A liberal says its time for other liberals to admit that affirmative action is not working. Proposes a more comprehensive set of initiatives to close various race achievement gaps.
3. Red State versus Blue State marriages. Southern Red Staters suffer from the romanticized notion of marriage which is no longer fully backed by community support of those unions which is associated with higher rates of divorce, argues Brad Wilcox.
4. At colleges, increases in spending on administrators and decreases on spending for faculty.
5. This was just a terrible article on the story of the coming-out of Michael Sam, the gay Mizzou football player. The left media seems to be leaning towards preemptively blaming front offices rather than player personnel for any lack of acceptance of Sam and any future gay players. I can only guess as to the reasons for this. But this snippet shows the authors' sloppy thinking:
But as a videotape of Eagles wide receiver Riley Cooper using the n-word during a conflict at a concert this past summer demonstrates, some NFL players aren't even ready for black players to have a place in the league. Ready or not, gay men and black men are taking the field alongside them.
A failed veiled attempt to harp on gay rights as the new civil rights by relying on the false logic that whatever Riley Cooper said when he was pissed-off drunk indicates what he also thinks about who or who should not be playing football. And then:
So what's up with the tut-tutting from the NFL's front office? It may be that the big difference between their panic and the NCAA College Football's maturity is money—particularly the big money that corporate sponsors and advertisers bring to the NFL and don't bring to the NCAA.
Yeah, there's no money in college football or anything.
6. Digital mobs and the generation of outrage. To add to that take – Twitter and other social media allows already like-minded people to further entrench themselves in their chosen hive mind which harps on the worst aspects of identity politics. I'm guilty of this as well.
1. The script of the 60 Minutes report from last night on sex differences in biomedicine. The following video is an outtake of some of the main reporting. It delves into the forces which have helped prevent studies into sex differences from taking place (ahem, feminism).
2. BBC chief is putting an end to all-male panels on comedy TV shows. (h/t Mangan)
3. Buried lede: Sybrina Fulton says she's "politicking" to get a street in Miami Gardens named after her son, Trayvon Martin.
4. Yeshiva student busted for spray painting anti-Semitic graffiti all over NYC.
5. The Carolina Black Caucus responds to the University of North Carolina athletics cheating scandal.
I don't buy this study which found that gay and bisexual boys use steroids at much higher rates than straight boys:
Overall, 21 percent of gay or bisexual boys said they had ever used steroids, versus 4 percent of straight boys. The difference was similar among those who reported moderate use — taking steroid pills or injections up to 40 times: 8 percent of gay or bi teens reported that amount, versus less than 2 percent of straight boys. The heaviest use — 40 or more times — was reported by 4 percent of gays or bi boys, compared with less than 1 percent of straight teens.
The method:
The nationally representative study is an analysis of government surveys from 2005 and 2007. It involved 17,250 teen boys aged 16 on average; almost 4 percent — 635 boys — were gay or bisexual. Blashill said it's likely more recent data would show the disparities persist.
There's
an alternative explanation
here. A researcher at Cornell recently asserted that National Longitudinal Study of Adolescent Health may have been tainted by 'jokesters'. The Longitudinal Study showed a high rate of adolescents switching their answers from "gay/bisexual" to straight over the course of the study, and the Cornell researcher hypothesized that those inconsistent answers were coming from kids who weren't taking the study seriously. And, the adolescents who took the study less seriously also happened to be troubled in other ways, thus making gay and bisexual students seem more disturbed than they might actually be:
People who were "inconsistent" on their sexual attraction scored lower in intelligence and got lower grades, the researchers found. The questions about "romantic attraction" might have confused them, especially since the survey did not define what that meant, said Savin-Williams, the director of Cornell's Sex and Gender Lab.

Others may have answered falsely for fun, he added. Earlier research on the Add Health survey found some signs of dishonesty, the study noted. For instance, hundreds of teens said they had an artificial hand, arm, leg or foot, yet few reported the same thing when interviewed at home. The new study found "inconsistent" boys and girls were more delinquent and more likely to say they weren't honest when they filled out the survey.
Assuming that these two studies share similar designs – and similar design flaws – it's possible that the latest steroid study was influenced by teens who don't take these types of things seriously.
If this 'jokester' hypothesis is true and significant, I wonder if straight students who would lie about being gay would also lie about taking steroids, or if the types of kids who take steroids would lie about being gay.
Addendum: I got ahold of Ritch Savin-Wlliams, the researcher who hypothesized about the jokester effect. He said the Youth Risk Behavior Surveillance System did not seem to be cleared of jokesters, though he said he didn't want to speculate too much on this particular study since he wasn't familiar with it. But he did point out that the YRBS is not a representative sample of the U.S. and cited the distribution of ethnic groups in the dataset.
1. Developments in the DOJ investigation into Title VII violations against the City of Austin and the Austin Fire Department for discriminating against black and Hispanic fire cadets. While the DOJ was entertaining a consent decree that would force the hiring of black and Hispanic cadets and cost the city millions in back pay, the Austin fire chief and other city officials sat on information shared by the testing consultant who reviewed the 2013 cadet test who stated in no uncertain terms that the 2013 exam was not discriminatory against blacks or Hispanics.
One 2012 test taker, who is black, filed the complaint with the DOJ in April 2013. Word is, the complainant scored a 49 on the cadet test, well below the 70 needed to be considered passing.
2. Back in November CNN host Piers Morgan called the members of the Lunenburg, Mass. high school football team "horrible little bullies" and "gutless little cowards" for allegedly spray painting racist graffiti on a mixed-race teammates home. Morgan hosted the parents of the alleged target on his show. But soon after, the police cleared the team and actually said that the parents of the alleged target had become the main suspects. But Morgan never circled back to apologize for jumping the gun. And a bunch of the Lunenburg parents I spoke to about this are pissed. By the end of my reporting on this, after word spread within the Lunenburg community that I was revisiting the racist graffiti story, I had parents coming out of the woodwork wanting to talk to me about the situation. Link.
Hanna Rosin has a piece on Melissa Harris-Perry that informs the debate spurred after Ta-Nehisi Coates called the Princeton Tulane professor and weekend MSNBC talk show host America's "foremost public intellectual".
In 2012, just as Harris-Perry was leaving Princeton after being denied a full professorship, [Cornel] West gave a pretty unhinged interview in Diverse magazine, saying about her, "She's become the momentary darling of liberals, but I pray for her because she's in over her head. … She's a fake and a fraud. I was so surprised how treacherous the sister was."* He went on to say, "I have a love for the sister but she is a liar and I hate lying." West, who himself is out of control in so many ways, called her second book, Sister Citizen "wild and out of control" and added, "there's not a lot of academic stuff with her just a lot of twittering."
Just this once I'll relax my rule of not taking anything Cornel West says seriously. West recruited Harris-Perry to Princeton from the University of Chicago, so I assume that he would be inclined to sing her praises if she came close to deserving them.
Harris-Perry told Diverse magazine she was proud of the book and she wrote me an email saying she did not want to revisit that era. And people I spoke to from her Princeton days did not want to be quoted about it. But from a dozen interviews with her colleagues at the time, a fairly consistent picture emerged. The consensus among her fellow professors was that Sister Citizen, which is about stereotypes used to describe black women, was not sufficiently scholarly by Princeton standards. Her colleagues considered it a work of popular sociology that synthesized concepts that were already well known in African-American feminist thought. Beyond that was an unease that Harris-Perry was somehow rewriting the rules of what it means to be a public intellectual. West and, say, Bell Hooks, count as public intellectuals because they are scholars first, and emerge from academia once in a while to make pronouncements (West more than Hooks). But, to her Ivy League colleagues, Harris-Perry was some other breed (one dismissed her as a "pundit intellectual"), someone they felt was using academic credentials but playing to a different audience. But whether you see it as a betrayal of academia or an embrace of public discourse, playing to a different audience—a wider audience—is exactly what Harris-Perry is good at. (Her former colleagues agree. More than one told me that she is where she should be, though I could never tell if that was meant as a swipe or a compliment.)

At Princeton, the more Harris-Perry went on TV the more she became estranged from her colleagues. They described arguments over hires, over teaching loads, and over actual politics. Harris-Perry identified strongly with the rise of Obama but more radical members of the African-American studies department remained skeptical that he would stay true to the cause. When in 2011 she came up for a vote for full professorship, the African-American studies department voted unanimously against her. (At the political science department, the majority abstained from voting.)
So scratch 'foremost', scratch 'intellectual' – at least MHP is public.
The New York Times (h/t Sailer) has a piece about a topic I was momentarily obsessed with a few years ago back when UConn women's basketball was murdering their opponents every time they took the court.
There were a bunch of articles at the time about the lack of interest in women's sports, with many explanations coming from UConn women's coach Geno Auriemma, but I figured that this was not just because of the obvious, that women's sports just aren't as inherently exciting to watch as men's sports, but also because within each women's league, the competition just wasn't as stiff.
The two factors working to make women's basketball less competitive than men's basketball had to do with the relatively smaller pipeline of girls and young women – due to lower levels of interest in sports among girls and young women – mixed with scholarship requirements set in place by the NCAA. Because football teams are allowed to give out so many scholarships, Title IX essentially creates a scenario where women's teams in sports that also have men's teams are allowed to give out more scholarships. For example, women's basketball teams are given 15 scholarships to work with; men's teams are given 13. Women's soccer teams are allowed 14 scholarships while men's teams are given 9.9 scholarships.
This allows a smaller number of top-notch women's teams to develop and maintain dynastic programs. And once entrenched, those dynasties have been hard to overcome. That's not the same as men's sports which, though they have teams that tend to be successful year over year, have a lot more churn at the top.
I thought that it was interesting that these crazy lopsided ass-whoopings and dynastic dominance were created in part by the egalitarian-minded Title IX.
The heated race to recruit ever younger players has drastically accelerated over the last five years, according to the coaches involved. It is generally traced back to the professionalization of college and youth sports, a shift that has transformed soccer and other recreational sports from after-school activities into regimens requiring strength coaches and managers.

The practice has attracted little public notice, except when it has occasionally happened in football and in basketball. But a review of recruiting data and interviews with coaches indicate that it is actually occurring much more frequently in sports that never make a dime for their colleges.

Early scouting has also become more prevalent in women's sports than men's, in part because girls mature sooner than boys. But coaches say it is also an unintended consequence of Title IX, the federal law that requires equal spending on men's and women's sports. Colleges have sharply increased the number of women's sports scholarships they offer, leading to a growing number of coaches chasing talent pools that have not expanded as quickly. In soccer, for instance, there are 322 women's soccer teams in the highest division, up from 82 in 1990. There are now 204 men's soccer teams.

"In women's soccer, there are more scholarships than there are good players," said Peter Albright, the coach at Richmond and a regular critic of early recruiting. "In men's sports, it's the opposite."

While women's soccer is generally viewed as having led the way in early recruiting, lacrosse, volleyball and field hockey have been following and occasionally surpassing it, and other women's and men's sports are becoming involved each year when coaches realize a possibility of getting an edge.

Precise numbers are difficult to come by, but an analysis done for The New York Times by the National Collegiate Scouting Association, a company that consults with families on the recruiting process, shows that while only 5 percent of men's basketball players and 4 percent of football players who use the company commit to colleges early — before the official recruiting process begins — the numbers are 36 percent in women's lacrosse and 24 percent in women's soccer.

At universities with elite teams like North Carolina and Texas, the rosters are almost entirely filled by the time official recruiting begins.
The NYT piece focuses on the recruiting of legendary women's soccer coach Anson Dorrance whose University of North Carolina teams went on a 103 game unbeaten streak before losing one game and then going another 101 games without a loss. The longest unbeaten streak in men's NCAA soccer is Indiana with 46.
Mr. Dorrance, who has won 22 national championships as a coach, said he was spending his entire weekend focusing on the youngest girls at the tournament, those in the eighth and ninth grades. Mr. Dorrance is credited with being one of the first coaches to look at younger players, but he says he is not happy about the way the practice has evolved.

"It's killing all of us," he said.

Mr. Dorrance's biggest complaint is that he is increasingly making early offers to players who do not pan out years later.

"If you can't make a decision on one or two looks, they go to your competitor, and they make an offer," he said. "You are under this huge pressure to make a scholarship offer on their first visit."

The result has been a growing number of girls who come to play for him at North Carolina and end up sitting on the bench.
Another factor here, I suspect, is that, compared to their male counterparts, really good female prospects are much more interested in the education they'll receive with the scholarship. I suspect further that some of the best women's prospects tend to be better students in high school whereas the best men's prospects probably don't care as much about school. Just a guess.
Last year, a prominent former WNBA official did offer a list of suggestions for ways to make the women's game more interesting, and one of those was to decrease the number of scholarships from 15 to 13. But to make the league more competitive – or at least as competitive as the men's game – the NCAA will have to do more than that – either decrease scholarships even more drastically or cut the number of Division I women's teams.
1. Greg Mankiw touches on the importance of genes on income inequality.
2. A piece from Maggie McNeill on the annual Super Bowl sex trafficking freak-out. For this occasion I like to trot out what I consider to be my first piece of real reporting – an investigation into why Texas Attorney General Greg Abbott said that "tens of thousands" of prostitutes would be trafficked into the Dallas area for the Super Bowl held there a couple of years ago.
3. Buzz Bissinger's article on the murder of Chris Lane weighed against the backdrop of the town in which it happened, Duncan, Oklahoma, is pretty damn near a piece of apologia for the murderers, in my opinion.
4. High school characteristics stick with people over time. Thus, policies like ones in Texas or California to increase diversity by automatically admitting students that achieve high class rankings at their schools tend to revert to their high school mean.
5. This explains the "I Voted" stickers. People vote to tell others that they voted, and the researchers put a monetary value on this.
6. Assortive mating contributes to income inequality. An increase in women in the workforce fosters assortive mating and therefore contributes to income inequality.
1. Wendy Davis is the progressive politician version of 2Pac, Lil Wayne, or any of "those other phony rappers" who gain credibility within their milieu for pretending to be closer the struggle than they actually are.
Davis wrote an open letter on her campaign website, directly blaming her competitor Greg Abbott for the "attacks" against her even though it was a left-of-center Dallas Morning News reporter and a very generous and seemingly honest ex-husband are the ones who've thrown the kinks in Davis's well-rehearsed story. An interesting 1996 piece from the Fort Worth Star-Telegram from when Wendy was still married to Jeff (and still paying for those Harvard student loans) has a quote (in my mind, a very fascinating one) from Wendy showing that Jeff did have something to do with her success.
He gave to me my adolescence. He gave me the opportunity to be a university student.
But Jeff Davis is no longer in the Wendy Davis stump speech rotation. Just as her father, Jerry Russell, is also not mentioned by Wendy, who focuses instead on how her single mother with only a 6th grade education raised her. But Russell has said in interviews that he was in his daughter's life and did not, contrary to the picture painted by his ambitious daughter, absent. In that same interview, Jerry Russell also mentions that his ex-wife, Wendy's mom, remarried a couple years after their divorce. So what we have here is a pattern of erasing any of the contributions these men have made to her success or the success of her children.
But that's the effect of this War on Women rhetorical battlefield that liberals have been yammering about for the past few years. Granted, Wendy Davis has been selling her self-made story for longer than the War on Women stuff started being used as a weapon. But just as rappers had to eschew any signs of privilege – any – that they might have had in their childhoods (2Pac went to high school in Mill Valley, California, and Rick Ross worked as a law enforcement officer before he started rapping about doing drugs and fucking hoes in his Maybach) the liberal-progressive base has caused/forced/compelled/made it a viable strategy for Wendy Davis to pretend that she's something other than what she is.
This is perverse.
Wendy Davis likes to talk about how she was a single mom and her mom was a single mom – and she says all of that in the same way that Marines talk about their honorable lineage. But she's a viable candidate. She probably wouldn't have been Texas governor anyway, but she still has a bright political star. This is the Wendy Davis Zeitgeist. Davis is a first wave figure, at least for a state like Texas. But she is a big-time candidate who feels comfortable enough with the political landscape which reflects our deracinated cultural values that she can confidently advertise her single parent status and actively compare, without so many words, men to bicycles and women to fish.
Because you know one group that has a high suicide rate? People who commit fraud. They often kill themselves when the scheme they've built upon a pile of lies of whatever nature starts to slip. Dr. V lied about being an engineer on the B-2 Stealth bomber. I don't really care if that's illegal…but is it illegal?
I remember in my hometown when I was about 10 years old somebody burned down a milk and juice plant owned by the most moneyed family in town. It turned out that the CEO, the scion of the family business, had committed arson. I think he was a druggie or something. But he killed himself in a local motel after an investigation had pretty much narrowed in on him. Was anyone responsible for that death? No, he was just some asshole millionaire who was not the member of a predesignated class of people who are given the benefit of the doubt no matter what happens to them or what they do.
One interesting position is at the root of the outrage at the original article. If you take the argument that Dr. V's transsexualism was not a relevant aspect of the story, then you're saying that individuals should not change their opinion on a person they find out to have been born a different sex than their current one. An extreme example (though I guarantee you could find a radical somewhere who has made this argument before) would be that a person who is dating a transsexual has no reasonable right to know that the person they are dating was born a different sex. I make this example because Simmons makes his biggest concession about the wrongness of the piece about the part of the Dr. V story where the author tells a guy who invested $60,000 into this magical putter that Dr. V was not born a woman. Simmons calls that the biggest mistake of the reporting, but doesn't really go into any detail for why he thought that.
Would that guy have invested the money up front if he'd have known Dr. V was born a man but lived as a woman? Would Simmons? I probably wouldn't, at least not without knowing a lot more about the person and the circumstances leading to the sex change. But the radicals would argue that the transsexualism of Dr. V should not have any influence on a decision made by a the government, an employer, a suitor, or an investor. But this isn't a humanities classroom. People in the real world who face bullshit on a daily basis would think a lot harder about trusting a person who decided deep into their life that they were so unhappy that they wanted to change their sex. So that was a relevant fact for the investor and for the piece.
But this was the most humorous part of Simmons' apology:  "Our lack of sophistication with transgender pronouns was so easily avoidable, it makes me want to punch through a wall."
And here I thought he only got that excited when the Celtics lose.
1. One of an increasing number of hit pieces on the Dark Enlightenment.
2. Holes exposed in the life story of Texas democrat gubernatorial hopeful Wendy Davis. In most of Davis's comments on her bootstrap journey, she glosses over the period of time between when she got her first divorce – when she was either 19 or 21, depending on who you believe – and her graduation from Harvard Law School. Here's an idea of how the mainstream myth of Wendy Davis is typically portrayed:
After graduation, the single mom returned to Texas where she served on the Fort Worth City Council and won a Fort Worth seat in the Texas Senate in 2008.
And the "About" section of her campaign website paints a similar picture:
With the help of academic scholarships, student loans, and state and federal grants, Wendy became the first person in her family to earn a bachelor's degree, graduated first in her class, and went on to Harvard Law School.
This leaves the impression that Davis was a heroic single mom all throughout her journey through college. But no mention is made of her lawyer husband who says he paid for her last 2 years at TCU and her education at Harvard Law School. Perhaps more politically damning for Davis, her ex-husband also told The Dallas Morning News that Davis filed for divorce the day after he finished paying off her Harvard student loan. Davis also gave up custody of her daughter and was paying $1,200 a month in child support. That's a bit of "man bites dog".
3. John McWhorter tackles the 'ax' versus 'ask' question.
4. Beta watch: Bill de Blasio's wife wants to take part in NYC gov't.
5. If you haven't read it already, check out the Grantland story "Dr. V's Magical Putter". And then read the outraged response to the article which some are accusing of being, at worst, a hate crime. And then some perspective countering the outrageous response to the article.
Robert VerBruggen links to a piece from Think Progress on a CDC study first covered by the Los Angeles Times in December. Think Progress uses this graphic: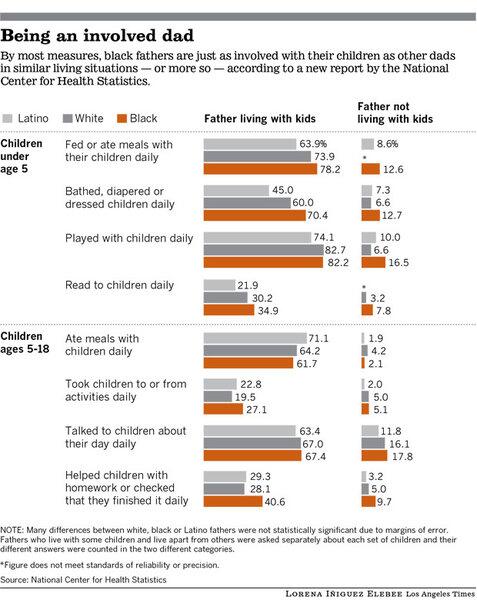 The topic of black fatherhood bubbled up recently on the internet after a black father blogger wrote about taking care of his kids. He was besieged by online snipers, both black and white. Blacks who attacked the father were upset that the mother of his kids is white. Whites who attacked him said they thought he was lying and that he likely wasn't much different than the black deadbeat dad stereotype.
With their post, Think Progress seems to be confronting a strawman. They focus mostly on how black fathers who do live with their kids interact with them. They use the data for that particular family structure to make a statement about how black fathers interact with their kids in general. But few, besides maybe some people online, argue that black fathers who are present are worse fathers than white fathers who are present. Perhaps there are some differences associated with other confounding variables, but it seems pretty clear that conservative types, for instance, think that black fathers are a good thing. The problem, as so many have noted through the years, is the high rates of absenteeism among black dads.
But Think Progress obscures this point:
Although black fathers are more likely to live separately from their children — the statistic that's usually trotted out to prove the parenting "crisis" — many of them remain just as involved in their kids' lives. Pew estimates that 67 percent of black dads who don't live with their kids see them at least once a month, compared to 59 percent of white dads and just 32 percent of Hispanic dads. Equal numbers of black dads and white dads tend to agree that it's important to be a father who provides emotional support, discipline, and moral guidance.
As VerBruggen points out, "many" has a lot of wiggle room. According to the CDC, 23.8% of black fathers do not live with their children. That is true for 8.2% of white fathers and 18.3% of Hispanics.
The graphic shown above also obscures what it means for present fathers to actually be present. The graphic may overemphasize the value of carrying out various tasks "every day". The ability to carry out those tasks every day might be a result of something else that might have a slightly negative effect. If a father is at home more hours of the day with the kids then chances are that he's not bringing as much income to the household. So there is a happy medium.
The CDC breaks frequency down into four categories: "Not at all", "Once a week or less", "Several times a week", and "Every day". There's a pretty big gap in terms of interaction between the first two categories and the last two categories. If you consider not just doing caretaking tasks everyday but also "several times a week", white fathers surpass black fathers.
Here are the stats for kids 5 and under:
Fed or ate meals with: Hispanic – 92.3%, White – 97.9%, Black – 92.6%
Bathed, diapered, dressed: Hispanic – 79.9%, White – 93.6%, Black – 87.5%
Played with: Hispanic – 96.7%, White – 99.3%, Black – 96.1%
Read to: Hispanic – 39.8%, White – 66.7%, Black – 64.1%
Whites don't eclipse blacks by a large margin when the two more positive categories are combined, but it adds more context to the data and also flips the man bites dog-ish headline.
I went a step further and came up with a composite by cross-multiplying living arrangements by positive ranking. If 8.2% of white fathers don't live with their kids, 91.8% of fathers do. If 23.8% of black fathers didn't live with their kids, then 76.2% were around (by the way, I couldn't determine for sure if this study considers fathers who were incarcerated). The CDC compiled caretaking data for both groups of fathers based on home status. Not surprisingly, fathers who did not live with their kids were much less likely to help their kids with these tasks either "every day" or "several times a week".
It should be noted though, as Think Progress hinted at, the data indicates that black fathers who didn't live with their kids tended to help out in these tasks more than did white fathers who didn't live with their kids. For example, 41.4% of black fathers who did not live with their kids said that they bathed, clothed, or diapered their under-5 children several times a week or more. That's compared to the 33.9% of white fathers who didn't live with their kids who performed the same tasks. Similarly, for kids ages 5-18, 51.9% of black fathers who didn't live with their kids talked several times a week or more to their child(ren) about things that went on with them during the week. That's compared to 34.2% of white fathers. The big difference, though, lies in that huge gap between percent of black fathers and white fathers who do live with their kids – a gap of around 15%*.
The cross-multiplied composite values were thus for children 5 and under:
Ate dinner with their children several times a week or more: White – 0.915, Black – 0.804.
Clothed, bathed, changed diapers: White – 0.887, Black – 0.765.
Played with: White – 0.946, Black – 0.852
Read to: White – 0.636, Black – 0.539
And for children between 5 and 18:
Ate dinner together: White – 0.883, Black – 0.697
Took to and from different activities: White – 0.527, Black – 0.464
Talk to about things that happened to them through the day: White – 0.903, Black – 0.796
Helped with homework: White – 0.577, Black – 0.588
So my whole point here – as I think is VerBruggen's – is that Think Progress did not completely overturn conventional wisdom about differences in the family lives of blacks and whites.
*I think there are fewer barriers preventing black fathers who don't live with their kids from interacting with their kids than there are for white fathers who don't live with their kids. My (educated) guess is that black couples that produce children are less likely to have been married than were white couples who had kids. While marriage is generally a good idea when kids are involved, the condition that led to the father living apart from the his kid(s) i.e. divorce, creates a difficult barrier to work around when it comes to being around your children. It would be interesting to look at the differences in custody arrangements (another term for "roadblocks") for black families and white families. I also hypothesize that whites are more likely to re-marry after the event that led to the father and child to be apart. Having a new wife and perhaps step-kids makes daily interaction more difficult.